MasterChef winner Emma Dean dishes out bite-size cooking
show for EatWell magazine
The stats are in! Food sales are up in "unprecedented demand". It seems that isolation has brought out the inner chef in many of us and EatWell magazine has responded accordingly by providing a content-driven Micro Series, Eat Well With Emma.
Presented by MasterChef winner Emma Dean, these bite-size content pieces showcase some of Emma's favourite recipes, including featured sponsor ingredients.
The series will be distributed across the Nine Network as well as digital and of course in EatWell magazine.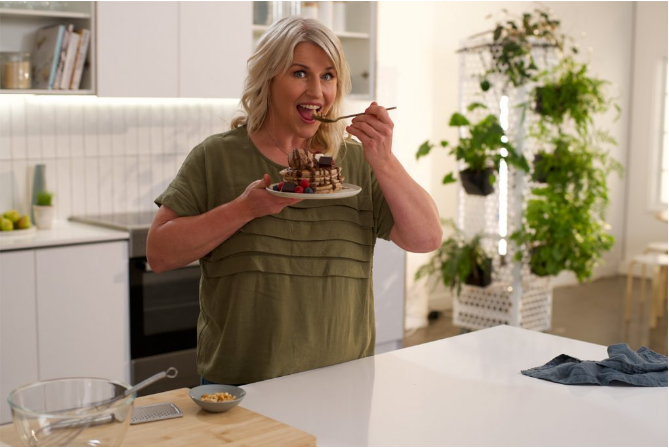 Publisher of Wellbeing Media Group, Janice Williams, knows consumers want to "eat healthily, and when the time comes to plan, prepare and discover a new way with food, EatWell magazine is there to help". Hosted by the relatable Emma Dean, this series brings mouthwatering EatWell recipes to life through a 360-degree content strategy across TV, online, magazine and social, with a new multi-channel approach for the high-end food magazine.
"EatWell exists to help food planners find their way around new ingredients, approaches and ideas. It is very much about wholefood cooking and its philosophy is epicurean; the new dishes you make have to look, smell and taste good if they are going to become part of your lifestyle. Eat Well With Emma rendered as a TVC is a way to take the sizzle to a new medium." – Janice Williams
"Isolation has given us all a timely reminder to be kind to ourselves and what better way than to cook delicious food for yourself and others. Partnering with EatWell magazine and supporting local brands through delicious recipe creation has been such a nourishing experience. EatWell gives its readers the confidence to create wholesome food from scratch and I'm pleased to be able to bring that to life on screen." – Emma Dean
The high-quality production segments for Eat Well With Emma were brought to life by Emily Owens, Executive Creative Director of Toffee Collective, who has worked with major networks on a slate of hit TV programs for nearly 15 years.
"We wanted to create something that felt like a cooking show, but allowed for seamless brand integration. Television has moved from being passive brand awareness to driving experiences for audience, so with a two-camera setup, we aim to transport viewers into Emma's kitchen. Emma was superb to work with and the perfect choice for this project," said Owens.
The series, which airs from 25 June on Channel Nine, launches with the premium chocolate brand 'Pana Organic' and a plant-based pancake recipe that features four hero ingredients.
"To be able to create a platform for our clients to further extend their affiliation with EatWell to a multi-touchpoint campaign has been an exciting project to initiate." Tracey Dwyer – National Advertising Manager, Wellbeing Media Group
Links to first episode is here
Website with recipes visit eatwellmag.com.au

For further information, 
Contact: Tracey Dwyer
Phone: 03 9694 6403
Email: tdwyer@umco.com.au